14 Years Of Song
We're very proud of the history of the choir, from the humble beginnings without a rehearsal venue through to today where we have over 100 paying members.
Over 500 people have been members of
Sing Out Bristol
at one time or another, and that doesn't include the many more who came along to a new members evening to check us out..
With so many people involved, it's no wonder we've created such amazing memories along the way!
Below, is a full timeline of the choir's history. Click on the blue links to see more info, photos and videos of events.
Here is our Sing Out Bristol Timeline:
2008
Two members of the disbanded Bristol Gay Chorus decide to start a new choir. One of those members, Lesley Welch, is still a member of Sing Out Bristol today.
They persuade a few friends and friends of friends to get involved and started rehearsing in each other's living rooms, until the size of the group means a proper rehearsal venue is needed. Jubilee Hall in Bedminster is chosen as the choir's first home.
The first informal performance from the choir celebrates a milestone birthday, and ten years later, we sang at her next milestone birthday! Will we be there for another, in 2028?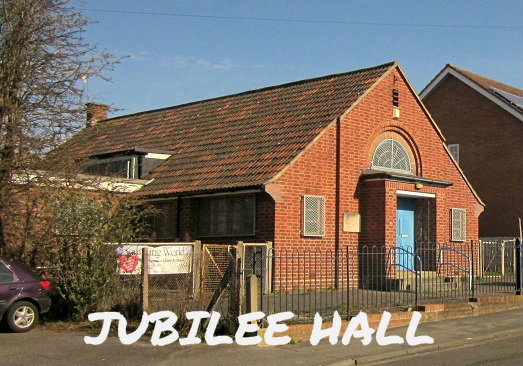 2009
A year of firsts, starting with the choir electing its first committee and forming a constitution, the principles of which are still fundamental in today's version.
Our first performance takes place in Jubilee Hall, in front of an audience made up of friends and family, followed soon afterwards by a first public concert at Circomedia. in Portland Square.
We attend our first Various Voices (a worldwide festival for LGBT choirs, held every four years) in London, at Royal Festival Hall in the Southbank Centre, which is opened by Sandy Toksvig and Lesley Garret (the latter with whom we share a warm-up session).
In August, we sing at our first Pride event in Swindon, and at our first wedding.
In September, we are invited to sing at the opening of the refurbished Colston Hall foyer.
Rónán de Burcá takes over Music Director (MD) duties for our first major concert at The Anson Rooms in November.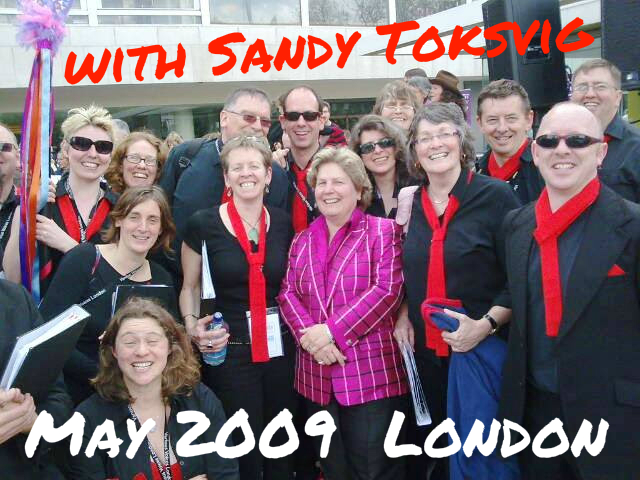 2009 links:


2010
We start the year with another trip to London to join the Pink Singers at The Royal College Of Music in their Pink Chill concert
Back home, we are on the move, as the continually expanding membership means a larger rehearsal venue is needed, and we move across town to the more conveniently located venue we use today in central Bristol. Our first rehearsal in our new home takes place on March 2nd.
We return to the Anson Rooms for our Summer concert
We open Bristol Pride for the first time, (as we have continued to do, every year since) and perform at The Hippodrome, prior to a showing of Priscilla, Queen of the Desert as part of Pride Week
We also perform at Bristol's Gathering Voices (a festival for Bristol based choirs) at St Georges for the first time, in October and a small group from the choir appear on an episode of the Channel 4 programme, Come Dine With Me, as the post dinner entertainment.
2010 is also the year where social events start to become more prominent for the choir, with a summer picnic and a Christmas party.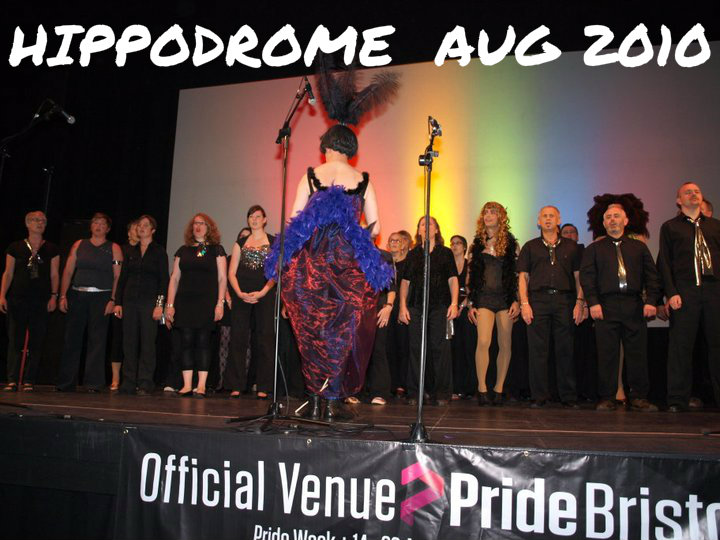 2011
2011 is a bumper year in our history, with two concerts in the space of four months (what were we thinking!!) 'Glamour' at The Redgrave Theatre in February, and our first major concert at St Georges, in June, where The Pink Singers are our special guests.
As well as Bristol Pride and Gathering Voices, we also perform at St Aidans in Hanham, at The Bristol Old Vic, and at our first World AIDS Day event, something we have continued to do every year since..
Add to that, two additional appearances for Pride week at Jongleurs and on the radio for BCFM's BreakOut day, and it's our busiest year so far with a total of 9 performances, in all.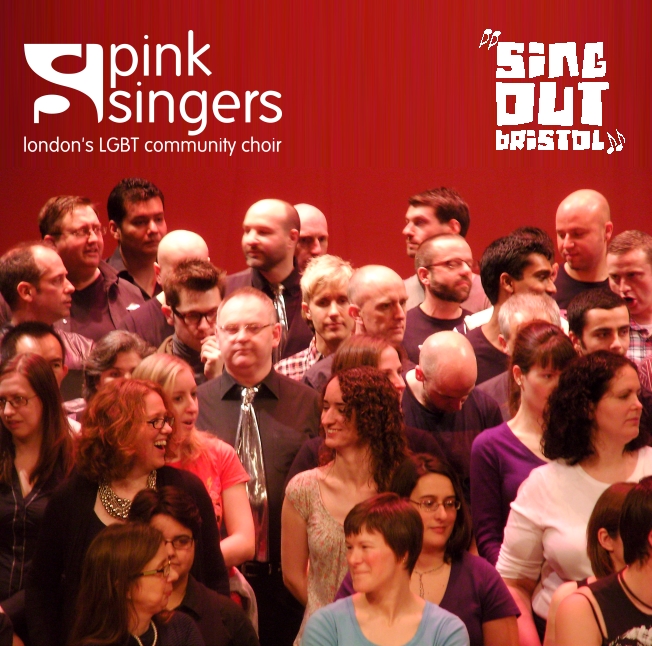 2012
Another busy '9 event' year, sees us move from St Georges to The Victoria Rooms for our two concerts (February's 'One In Ten' and 'The Love Train' in October)
A week after The Love Train concert, we return to St Georges for Gathering Voices, and, as well as our annual Bristol Pride (held this year at College Green) and World AIDS Day performances, we also perform at Swindon Pride, The Queen Shilling for 'Love Music, Hate Homophobia' and the now defunct HM Prison, Shepton Mallet, as part of our outreach programme, the last two, being on consecutive nights in February.
We also return to perform at the 2nd BCFM ShoutOut day, in September, this time held in OMG night club.
On the social front, we hold our first annual Sing Out Bristol Quiz Night, won by the Bass section and a special 'Olympicnic' on The Downs to mark the start of the London Olympics.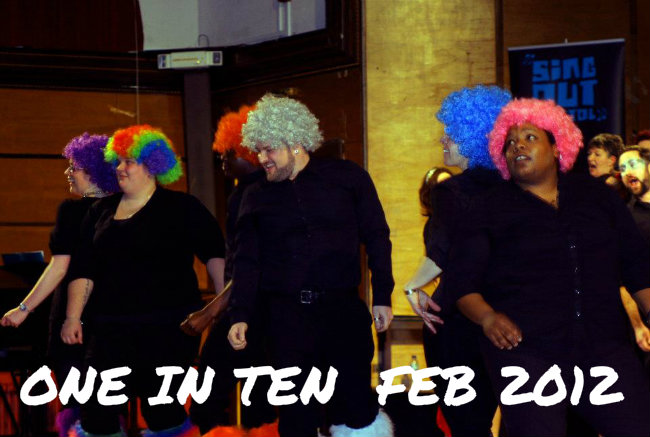 2013
Our 5th anniversary year, and to celebrate a special birthday concert, 'Our Favourite Things' at The Victoria Rooms in June, featuring (you guessed it) our favourite songs from the first 5 years.
Before that, we perform on consecutive days, in February at City Hall for the launch of LGBT History Month, and, at the launch of 'Out Stories' at The M Shed, also part of LGBT History Month
In May, we perform for one of our biggest fans, at the Lord Mayor's Reception in Mansion House to mark the end of Peter Main's tenure as the first openly gay Lord Mayor in Bristol
As well as World AIDS Day and Bristol Pride, we perform at Totnes Pride, Swindon Pride and 'Sing For Water' on Bristol's Harbourside, in a busy summer period.
In September, a small group of 8 singers represent the choir at the launch of Bristol Hate Crime Services at an event in The Park Centre, Knowle.
We hold our first Sing Out Bristol Treasure Hunt around the Harbourside as well as karaoke and bowling social events, and round off the year by singing Christmas carols at Bristol Zoo over two nights.
We become an official registered chairity and also pick up our first award, as 'Best Performance Group' in the inaugural ShoutOut Radio Listeners Awards.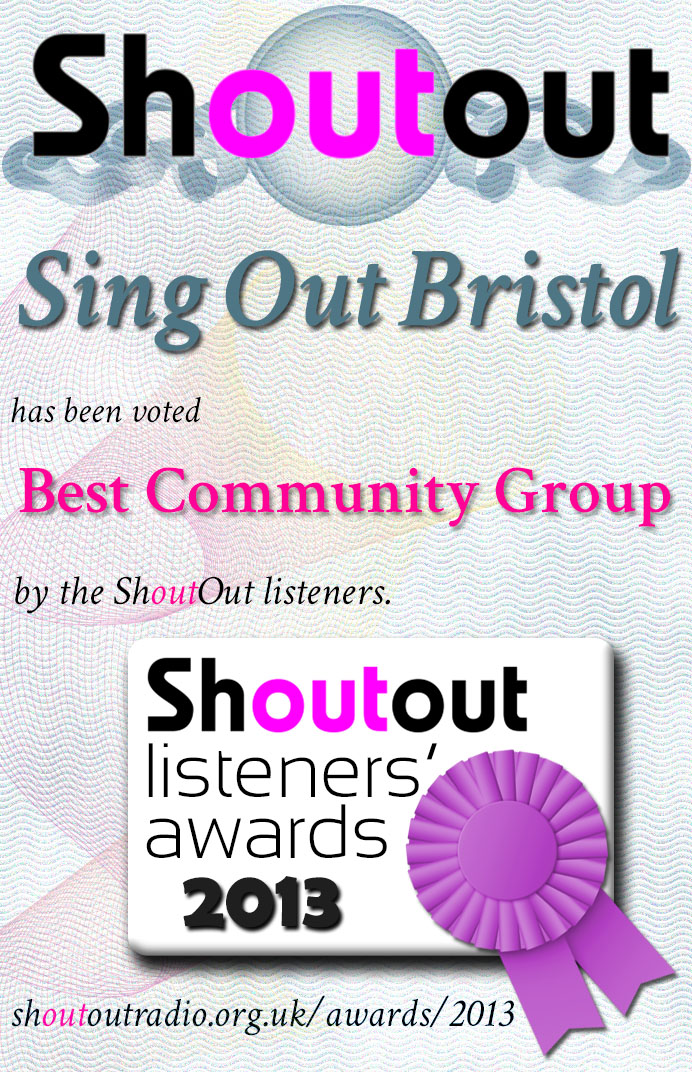 2014
2014 sees us move to a new schedule of a single annual concert in April, concentrating on quality over quantity, starting with 'Elemental' at the Victoria Rooms.
A month later, we find ourselves performing at a memorial service for one of our members, Ricardo Romeo, who sadly passed on, earlier in the year.
In June, over 60 of us head over the Irish Sea to Dublin for the 2nd Various Voices festival, which is a huge success. We had previously held a fundraising ceilidh to help with the costs of this trip.
After perfomances at Bristol Pride, IDAHOT Day in The Queen Shilling, Living Springs in Bath, Gathering Voices at St Georges and World AIDS Day at our own rehearsal venue, we round the year off with Christmas carols at Clifton Down Shopping Centre.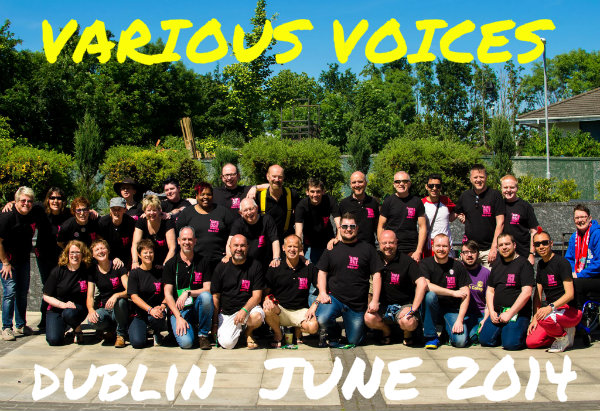 2015
Our annual concert in April 2015, sees us return to The Anson Rooms for 'Around The World With 80 Gays'
In June, we head south to Brighton for our first visit to Hand In Hand, a festival for UK LGBT choirs, held every 2 years.
In addition to our usual appearances at Bristol Pride, Gathering Voices and World AIDS Day, we perform two paid gigs at a former member's wedding (Nick Hooker) at Bristol Zoo and for the UK LGBTQ Writers Guild annual awards dinner at The Bristol Marriott hotel.
As well as all those performances, we also sing at an event in Portishead for Amyloidosis UK (a charity involved in fighting this rare condition) for a good friend of the choir, Gill Scott.
At the bi-annual Shout Out Awards, we pick up Best Community Group, as well as retaining our Best Performance Group award.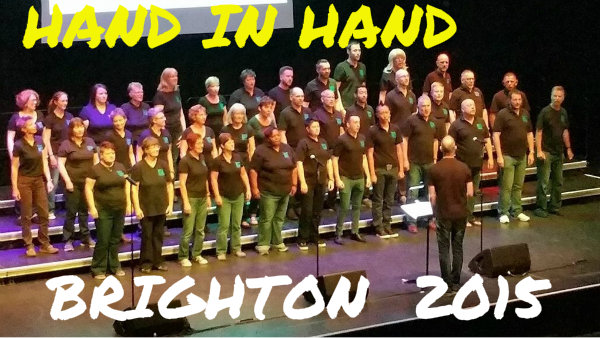 2016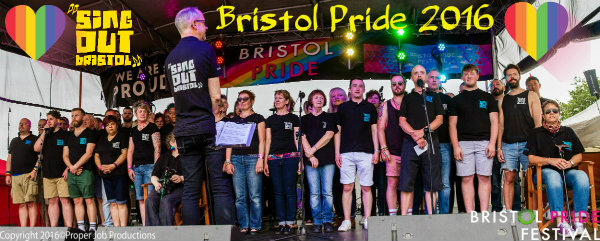 2017
In our busiest year to date, we perform at 10 different events (the most in any calendar year) and also reach 150 paying members (with over 100 at a rehearsal, for the first time)
As well as our hugely successful annual concert '50 Shades Of Gay', at St Georges, acknowledged by many as our best ever), and our biggest ever Bristol Pride audience, in March, we travel to Cardiff as South Wales Gay Mens Chorus guest choir and Manchester for our second Hand In Hand festival. in August.
We also sing in a cinema (Cabot Circus), a prison (Leyhill), a hospital (Southmead), a railway station (Temple Meads) and a priory (St James), and appear at the Terrence Higgins Trust cabaret evening at The Watershed.
We manage to hold a social event every month and launch a monthly newsletter magazine for choir members, picking up the Best Performance Group, once again at the Shout Out Awards.
Our spin-off group, Little Sing Out also perform at two weddings, one of which being our own Concert Director's.
On top of all the performances we give, we also decline just as many, proving that Sing Out Bristol is now the 'go to' choir for LGBT and other events in the south west.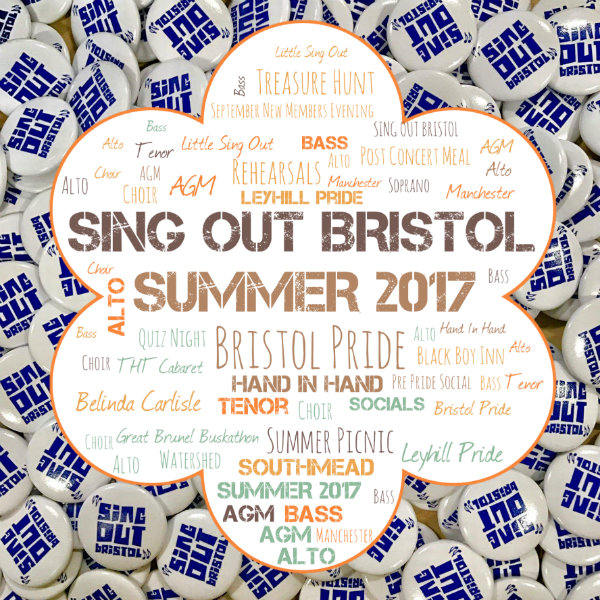 2018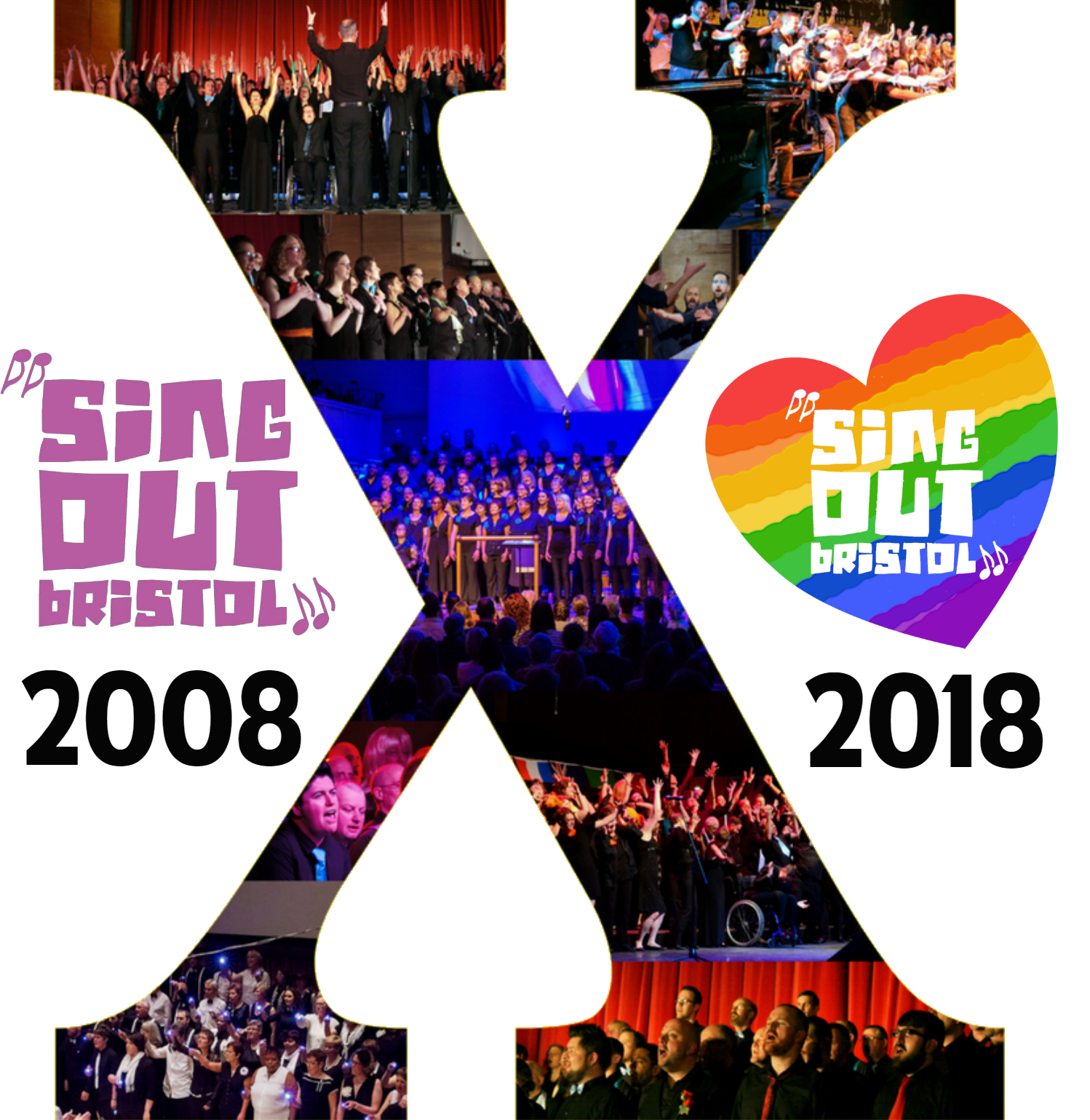 2019