Sing Out Bristol creates a newsletter periodically to keep our friends, supporters and followers up-to-date with the activities and events of the choir. It is delivered via our
friends
email mailing list.
Anyone can subscribe to this mailing list to receive our newsletters as they are released.
To subscribe (or unsubscribe), enter your email address in the box to the right...
Below is a list of all past issues...
---
Sat, 2 Jul 2022
Printable version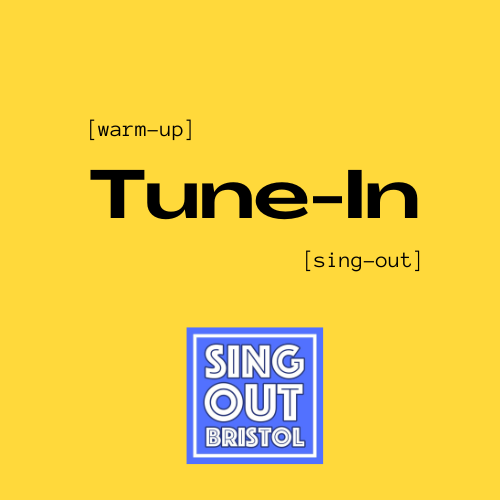 Here is the latest edition of Tune-In, our quarterly newsletter. During the pandemic we only managed to produce two editions, due to the lack of activity, but we're now back to a full quarterly rota.

With this relaunch we've moved away from the previous magazine style to a more interactive newsletter format, using Microsoft's Sway software, which allows for greater flexibility with embedded videos etc.
We'd love to hear any feedback you may have
---
Fri, 31 Dec 2021
Printable version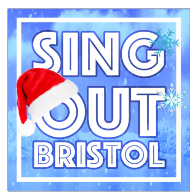 Good evening and welcome to Tune-In, the magazine for followers and members of Sing Out Bristol
It's been another difficult year and we hope you are all safe and well and enjoying the festive period.
In normal times (remember them?) we would bring you four editions of our e-magazine, Tune-In during the year.

Last year, because of COVID restrictions, we only managed one - an end of year review special and this year is the same, unfortunately. Who knows, next year may be different. We certainly hope so and this edition of the magazine is very optiimistic with some exciting news contained within.

So here's our one-off update for this year, looking back over the previous 12 months and bringing non-members up to speed with everything we've done in 2021.

Whatever you're doing this evening, stay safe and have a great evening.

Happy New Year from everyone at Sing Out Bristol.
---
Wed, 30 Dec 2020
Printable version
Hello and welcome to our latest newsletter for friends and members of Sing Out Bristol.

It's been a very strange year, which we're glad to see coming to an end. We hope you are having an enjoyable festive break and would like to wish you and your loved ones a very happy new year. Let's hope for a better 2021.

Thank you for being a subscriber and see you in 2021.
---
Tue, 31 Dec 2019
Printable version
Hi all and welcome to a one-off special email.
Our next official newsletter will be with you next month, but for now, here's a look back at 2019, in pictures. before that, though, a special invite to all our followers to attend one of our legendary socials. For the first time, we're extending our Annual Quiz Night to include more teams, and we'd love to have at least one team representing our audience. Full details here.:
https://www.singoutbristol.org.uk/quiz2019
If you're interested, reply to this email and we'll add you to the attendance list.
So here's our review of the year:
This year was once again an eventful one, with our first Pride fundraiser (at St Georges) following hot on the heels of another successful two night concert at the same venue. Hand In Hand 2019 took us across the Severn to Cardiff and a performance on the prestigious St Davids Hall main stage. Bristol Pride brought us our first performance on The Downs at the biggest Pride yet. Add in our usual World AIDS Day performances, choir workshops and numerous socials and it all amounts to another fabulous year in the story of Sing Out Bristol. We welcomed another group of new members and friends and said goodbye to a few.
Here's to a new year and a new decade, where we'll continue to go from strength to strength and grow as a community. The future looks rosy.
Happy New Year to all our members and followers
---
Fri, 18 Oct 2019
Printable version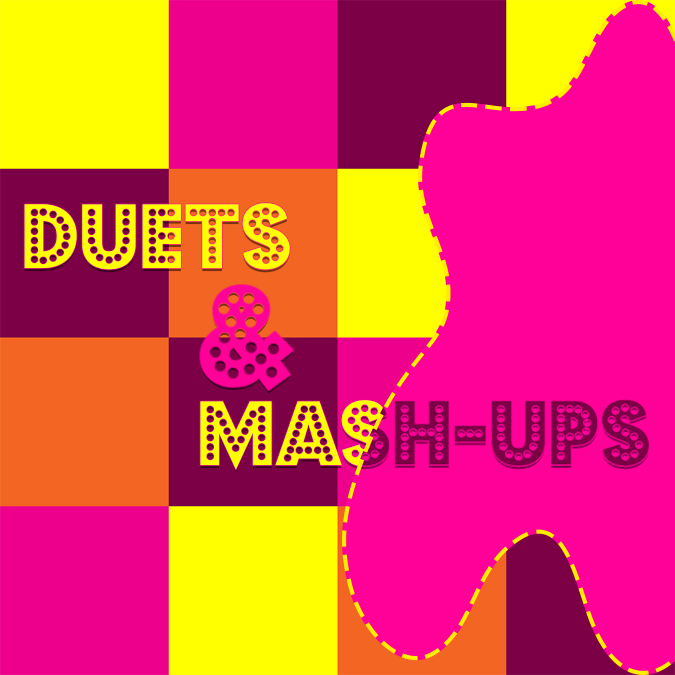 Tickets for our 2020 annual concert, 'Duets & Mash-Ups' go on general sale on Tuesday 22nd October at 10am.
Unfortunately, this year we've been unable to secure advance tickets for sale to you, our subscribers. However, if you're quick, you should be able to get the tickets you need on Tuesday. A booking fee applies for online and telephone sales or you can buy in person from St Georges box office.
Here are the links to buy online from Tuesday:
DUETS & MASH-UPS
After the sell-out success 'ICONS' in the spring of 2019, Sing Out Bristol are proud to present their 2020 spring concert theme: 'Duets & Mash-Ups'.
This time we're taking you on a journey through some of the greatest, most beautiful or most remarkable duets ever sung. On top of that we're also venturing into mash-ups, where some of our favourite songs have been combined into truly stunning arrangements. Add to the mix our iconic moves and the beautiful performances from our breakout group Little Sing Out, and you're in for a treat of an evening. Book your tickets early to avoid disappointment.
Thank you, once again for supporting Sing Out Bristol. We look forward to seeing you in May.

Sing Out Bristol

PS look out for the next edition of Tune-In, out next month, with details of our December performances and much more.. To read back issues of Tune-In, click here.
---
Fri, 20 Sep 2019
Printable version
Thanks again for being a friend of Sing Out Bristol.

Here's the latest edition of our quarterly magazine, Tune-In.
---
Thu, 30 May 2019
Printable version
Ahead of this weekend's concerts, here's the latest edition of the choir magazine Tune-In.
You can choose to read the online magazine format or download as a PDF.
---
Tue, 26 Feb 2019
Printable version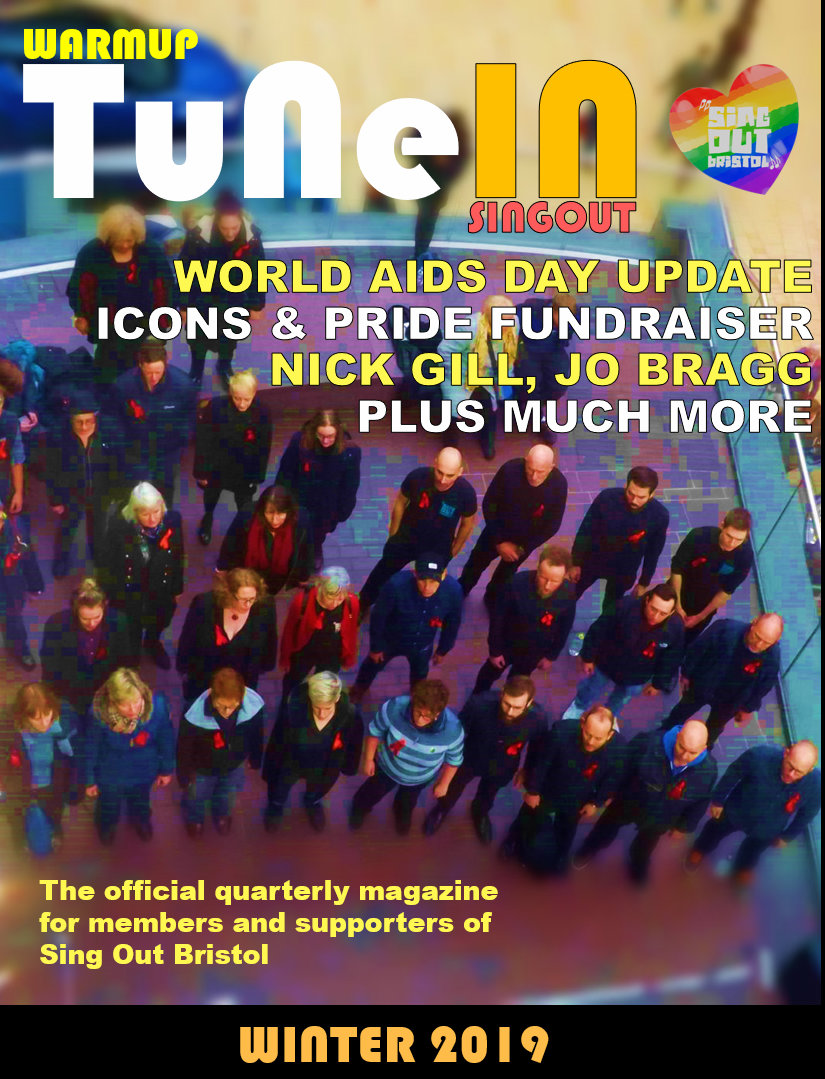 The latest edition of our online magazine, Tune-In is now available.

This magazine is produced for all members and followers of SIng Out Bristol and is available in two formats:


Table of Contents
---
Thu, 1 Nov 2018
Printable version
Here's the latest edition of Tune-In, our quarterly magazine for members and supporters of Sing Out Bristol...

News about our upcoming performances including how to get tickets for next year's annual concert, and photos from our events over the summer. Plus the usual features and interviews from within the choir.

There are two options to view...
Table of Contents
---
Thu, 12 Jul 2018
Printable version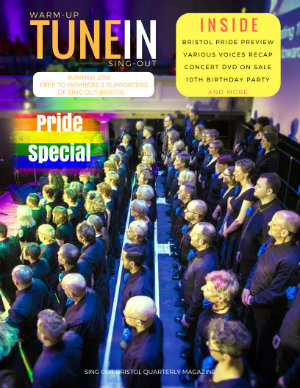 Welcome to the latest edition of Tune-In, the quarterly magazine for members and supporters of Sing Out Bristol.
Click below to view the magazine online, or download a PDF version from
here
.
---
Wed, 20 Jun 2018
Printable version
Hey Guys
Hope you're enjoying this summer. Our next quarterly newsletter is just a few weeks away. It will be a Pride special. We'll be opening Bristol Pride again, this year and you can catch us on the main stage at 12.30pm on July 14th.
Ahead of that, we thought we'd let you know about an exciting event we are hosting this weekend: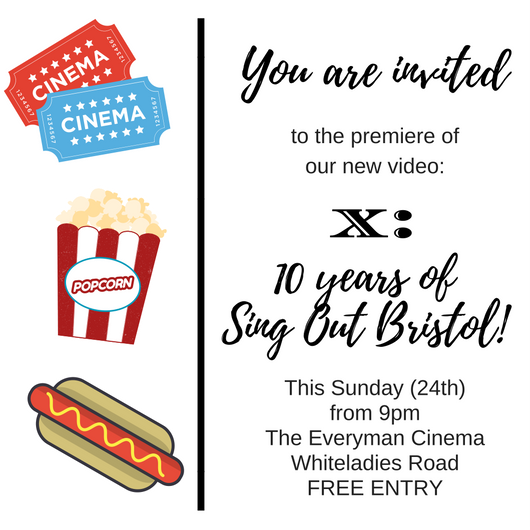 To celebrate the release of our new DVD, X-10 Years of Sing Out Bristol, we are previewing the video on Sunday, at The Everyman Cinema on Whiteladies Road. So, if you missed the actual concerts, in April; or you just want to re-live the whole thing, come along on Sunday. There is no requirement to book, just pop in from 9pm and congregate in the bar of the cinema. When the last regular movie has finished, we'll move into Screen One to re-live the concert from April.
We've even produced a short trailer.
If you can't join us on Sunday, look out for the Summer edition of 'Tune-In', next month for details of how to own your own copy of the concert video, on DVD or download.
See you on Sunday,
Dave Johnson
Sing Out Bristol Communications Team
PS If you'd like a reminder for Sunday,
click here to see the Facebook event
---
Wed, 11 Apr 2018
Printable version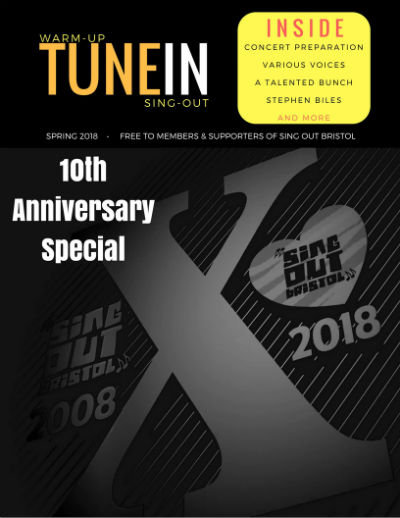 Welcome to the latest edition of Tune-In, the magazine for members and supporters of Sing Out Bristol.
This edition is a special 10th Anniversary issue, to coincide with our concerts, this weekend.

We hope you enjoy reading the magazine, and look forward to seeing you this weekend.

PS Don't forget, if you are a former member of the choir and are coming to the concert, you will be welcome to join us for the final encore song, 'We Are Family'. Please wait for the signal from Rónán before leaving your seat.
Table of Contents
---
Wed, 31 Jan 2018
Printable version
Issue 1 of Tune-In
Table of Contents
---