Hey Guys
Hope you're enjoying this summer. Our next quarterly newsletter is just a few weeks away. It will be a Pride special. We'll be opening Bristol Pride again, this year and you can catch us on the main stage at 12.30pm on July 14th.
Ahead of that, we thought we'd let you know about an exciting event we are hosting this weekend: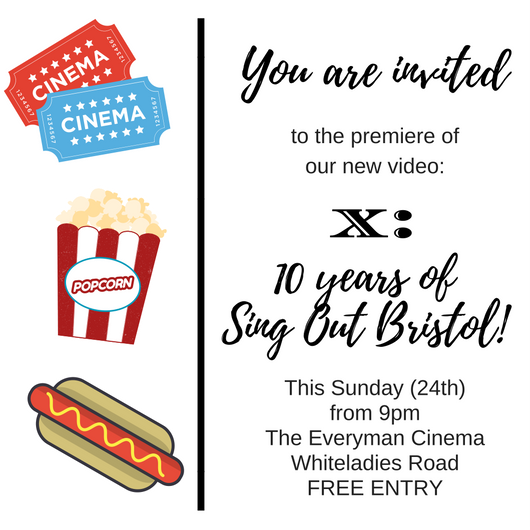 To celebrate the release of our new DVD, X-10 Years of Sing Out Bristol, we are previewing the video on Sunday, at The Everyman Cinema on Whiteladies Road. So, if you missed the actual concerts, in April; or you just want to re-live the whole thing, come along on Sunday. There is no requirement to book, just pop in from 9pm and congregate in the bar of the cinema. When the last regular movie has finished, we'll move into Screen One to re-live the concert from April.
We've even produced a short trailer.
If you can't join us on Sunday, look out for the Summer edition of 'Tune-In', next month for details of how to own your own copy of the concert video, on DVD or download.
See you on Sunday,
Dave Johnson
Sing Out Bristol Communications Team
PS If you'd like a reminder for Sunday,
click here to see the Facebook event