Description: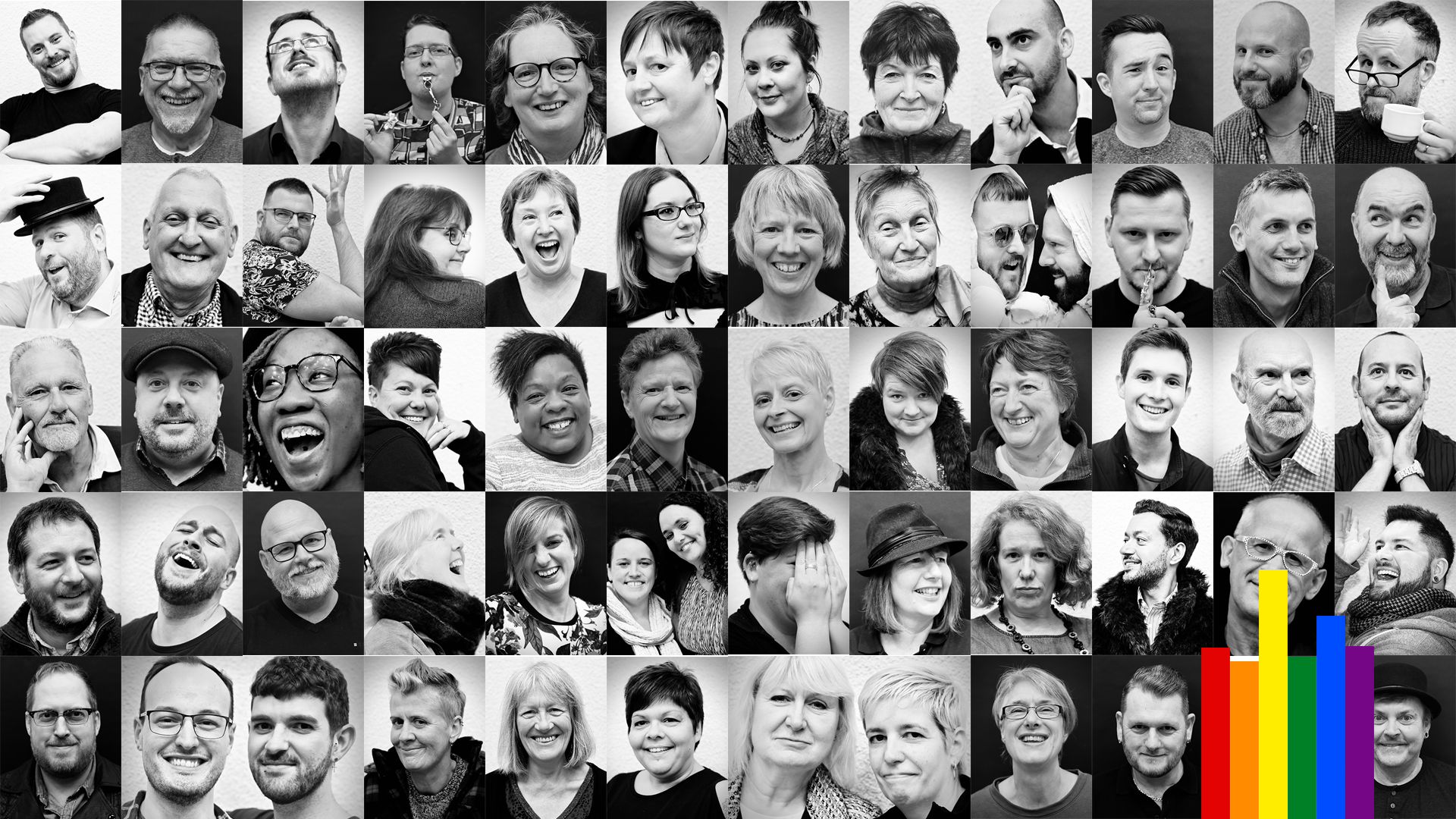 The second night at St Georges. This year's theme was LGBT Icons, where we paid tribute to our favourite singers, songwriters and human rights advocates.

The sellout crowd gave us probably our best reaction ever, enough to give us goosebumps.

We opened with the haunting Stevie Wonder classic, 'They Won't Go When I Go', also covered by our first Icon George Michael, with Gena singing the solo. With our sharpest moves to date and complex harmonies on many of the songs, this was our most challenging performance, but judging by the audience reaction, we nailed it.


Warblers one & all, you were absobloodylutely fandobbymazing!!!
What a treat to be in the audience, the quality of sound you made was completely joyful - rich & deep & unctuous. Altho' i moan about choralography, i have to admit that your moves were awesome!
job well done!

It was terrific, as ever, and everyone - audience and choir seemed to be having a really good time.

Was great to watch. Hard to believe that it still gets better each year xx

Lovely evening and a great performance. The quality of singing just goes up and up. The bar has again been raised xx

So proud of you all!!!! You sounded amazing! Well done to you all Amazing! Fabulous! Incredible! Professional! Oh you guys... what a simply joyous evening. It is such a different experience seeing things from the audience side and it really was an amazing performance. You are all ICONS

An "Iconic" night of singing.. Congratulations to one and all involved. A very slick production. Loved the video inserts.

I can honestly say you were all amazing and sounded truly beautiful. It was an absolute joy.

The following quotes were collected by St Georges feedback forms:
1. EVENT
Such a professional show for a community choir!!
Well orchestrated and well choreographed considering the number of people in the choir
Quite remarkably distinct, engaging and at times profoundly poignant. The ending came too soon.
Fantastic atmosphere. Beautifully presented.
Fabulous show none stop entertainment from start to finish. Highly recommended
Fabulous performance and choir.
Excellent performance and acoustics
Uplifting and professional performance by a gifted team
Amazing show as always. Staff very courteous and helpful
Musically very good, great choreography and a choir that were clearly enjoying themselves
Varied, enjoyable choice of songs, beautifully sung.
Choir fantastic but given their number the sound was very muted. Needed much better amplification. I said this politely to the team on the sound desk at the beginning of the interval and surprisingly they did not heed my advice.
2. THE VENUE
Lovely new space
The best acoustics of any hall in the UK
Providing water jugs near the seating was a life saver. Thank you.
Very smart and well- designed.
It would have been helpful to have toilets on each floor.
Love the next building make the place so much better to get around and for socializing.
Fantastic venue and acoustics. Loving the additional building.
Very nice venue
It is fabulous
Beautiful architecture and great organisation.
Extension and extra facilites a great improvement and presumably much easier for you. More nudges needed to get us to order our drinks ready for the interval - am guilty so had to wait almost missing out.
I love St George's as a venue and think the new renovations are wonderful. However I couldnt give it 5 stars as we were not able to take glasses into the show.
Excellent acoustics. Lovely bar/cafe area
Compact, comfortable and acoustically perfect - also some very clever lighting
Great acoustics
I like the redevelopment. Having the doors opening out on to the new patio is good.
3. VALUE FOR MONEY
A great evening entertainment for a very reasonable price.
What value do you put on something so memorable?!
5 star excellent
Excellent value
The performance was incredible. I wish they could have gone on for longer.
Would have been happy to have paid Hippodrome and Colston Hall prices for this show.


CASEY BROWNE
I just wanted to say a massive THANK YOU for making my first big concert with you a blast. I really enjoyed it and I'm so glad it was a success! (Also happy Pride month, which is an added bonus)

HILARY MILLER
This was my first too, and I feel a great sense of achievement - the support and friendships help so much too. X

LIS BEERE
What an awesome evening ?? and what a lovely appreciative crowd. Well done everyone involved x

GENA ROSE
It was an absolute honor and privilege to sing with all of you this past weekend!!!???? Thank you for making me feel so welcome and a part of the SOB Family!!????????????

DANNY CHAMPKEN
It's already been said time and time again but it bears repeating, these concerts have been an absolute delight and the cherry on top of a wonderful first year in Sing Out. So much hard work by so many wonderful people has well and truly paid off for what was just the most joyous experience ever. Overwhelmed by all the love in the room, you guys are my heroes. ??

RÓNÁN DE BÚRCA (MD)
I can't even begin to say how proud I am of my Sing Out family tonight. That was easily our Best. Ever. Performance.
Congratulations to each and every one of you for all the hard work, rehearsing, moving, voguing.
It's a privilege and an honour to stand in front of you and wave my arms about.
Thank you, thank you, thank you from the bottom of my shiny shoes ????????????
R.xx

MATT CROCKER
This really was our best performance in the 3 I've done, we should all be very proud :)

POLLI MULDER
Was a fab night my family and friends were truly blown away x

RHI O'GORMAN
Best concert and audience yet

ALF GREEN
Every year we get better and better, onwards and upwards.

CHRISTINE HUNT
It was an amazing team effort that I am VERY proud to have been a part of. I'll be grinning like a Cheshire cat for days now ????????????. Sing Out Bristol totally rocks!

ALISON JARMAN-FRY
How can an experience lift and join us all and yet leave me feeling I'd like to try to be even and much better?!! Thank you Sing Out Family. Still flying and feeling so humble..in the presence of such beauty! XxX????????????

TANYA HAZELL
I know that Sing Out has such an impact to the audience that it's made the emotionless emotional and lifted people in such a way they've said 'I'll be smiling all week after that' ...I'm certain it's the unity in the choir, the family like feeling. My other half cried at Just Give Me A Reason and she's not a crier.

STEVEN COOPER
Thank you all for yet another beautiful and memorable two nights with some the most fantastic people I know. SOB is really something special and we all play our part. Someone asked me after last nights show why I smile so much when I sing; my response was 'doing this with these people makes my soul happy'. Uber love to all of you xxxx

LISAH STUART
What a night !! Hope y"all had a great time.Our Dream team triumphed again.

RICHARD DAVIES
My friends and family said that last night was yet another improvement over the previous year. My favourite Sing Out Bristol performance ever, thank you ??

NICK GILL
A huge thank you to the choir for creating an atmosphere encouraging us to try something new irrespective of age and ability. My 20-year-old confused and closeted self couldn't have imagined that at 65 I would be donning a tutu and pirouetting on stage (although I'm the first to admit my style is more Gloria-Hunniford-does-Strictly than Dame Margot Fonteyn).

SUZANNE DOYLE
Christian you put on a fab show with all the little touches like the strawberries and biscuits in our dressing rooms (we will be expecting that every time now!)
Matthew and Christian the ribbons looked stunning!
Loved the video clips and I loved the song choices Mr De Burca xx


CLICK EACH SONG TITLE TO STREAM OR DOWNLOAD THE MP3 RECORDING FROM THE PERFORMANCE
ACT ONE


THEY WON'T GO WHEN I GO (Solo: Gena Rose)
SHOOP SHOOP SONG (Tenors & Basses)



FACEBOOK PHOTOS SLIDESHOWS PART ONE
PART TWO