We hinted at this FTA in last week's email, after an Instagram post from our hosts mentioned we were the last group to sing in the chapel. So here's the full story of the day we went to a prison for the first time:

OUTREACH: HM PRISON SHEPTON MALLET LGBT HISTORY MONTH PERFORMANCE
Tuesday 28 February 2012

To mark LGBT History Month, we were invited to perform at Shepton Mallet prison by their GBT society, 'Inside Out' to promote acceptance of and offer support to gay, bisexual and transgender inmates. Our audience consisted of inmates, officers and volunteer prison visitors and was very well received. At the time the prison was the oldest operating jail in the UK, opening in 1625 and steeped in history, with many accounts of ghost sightings over the years. As far as we know, we were the first (and possibly only) LGBT choir to sing in a prison.

The evening comprised of our performance in the prison chapel, followed by refreshments and a tour of the working prison, which was both fascinating and very eery. The Great British weather played its part by shrouding the prison in thick fog, meaning our visit to the gallows and unmarked graves in the grounds of the prison was nothing short of terrifying - listening to our guide tell us of the long list of previous inmates who met their end at the hands of this grisly apparatus, all while fingers of icy cold fog wrapped themselves around this naive group of gay singers nervously looking over their shoulders into the murky darkness.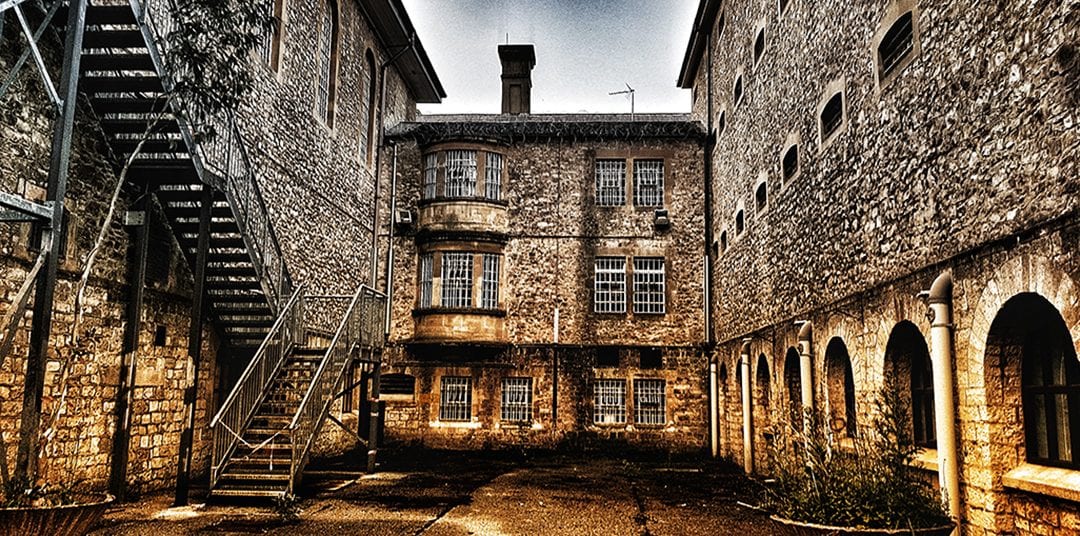 Being a working prison, no photographs or recordings were permitted, so you'll just have to take our word for it that the evening was thoroughly fantastic and yet another example of the varied and diverse history of this amazing choir.

We based our performance on the One In Ten concert (click the blue link to see performances of all the songs from that concert), which we had performed a few weeks earlier and featured in From The Archive, earlier this month. We performed 8 songs and introduced them with amended speeches about the LGBT history from the decade the songs featured in.

As mentioned, the prison was open and working at the time but it closed the following year and has since operated as a tourist attraction for the area; although controversial plans have recently been approved to convert the derelict areas into accommodation and community spaces. The prison recenty tagged our performance in an Instagram post to their followers (although they did get the year wrong!!):

SHEPTON MALLET INSTAGRAM POST 19TH February, 2021



RUNNING ORDER AND SCRIPT
CERI: Hello and good evening. It's wonderful to be here this evening in one of our most unusual of performance venues and we're delighted to be able to perform a version of a concert we did a couple of weeks ago. For those of you that haven't heard anything about us before, we are Sing Out Bristol We are the largest lesbian gay bisexual and transgender choir in the south west - and one of the biggest in the UK. Tonight we are here this evening in conjunction with LGBT History month, representing the much quoted one in ten of the population who identify as LGBT.

KARL: Less than a lifetime ago people of marginalised sexualities lived in fear and silence. They had no voice. Tonight we will celebrate the story of how that voice was found, starting our journey in the 1950s, a time when being LGB or T meant a careful life of secrets. At that time in Britain alone, thousands of men a year were prosecuted and imprisoned because of their sexuality. But things were about to change.

CERI: This undercurrent of change took place to a soundtrack of big numbers and melancholic ballads but our first number features no melancholy. I hope you're all feeling a little pretty and witty and gay....we are Sing Out Bristol.!
Choir sings West Side Story medley

| | | | | | | | | |
| --- | --- | --- | --- | --- | --- | --- | --- | --- |
| Written | Name | Release | Duration | Style | Accompaniment | Movement | Formation | Choir |
| 1957 | Westside Story Medley | 1957 | 00:08:15 | Upbeat | Piano | Yes | BAST | ALL |

KRISTINA: Moving up the tempo a little, we're now going to the swinging 1960s- the decade of the Beatles, JFK, flower-power and the birth of the grass-roots gay rights movement. June 1969 saw an unconstitutional police raid on a New York gay nightclub turn into what would become known as the Stonewall Riots. For the first time, members of the LGBT community rose up together in protest to their treatment by the authorities - The riots were the starting pistol for gay activism. In Britain, acts of love between consenting men over 21 were decriminalised in England and Wales. A victory that was the first step towards equality. With our next number, written for the musical Sweet Charity, we're going to put a tingle in your fingers and a tingle in your feet as we sing an adapted version of Rhythm of Life.

Written
Name
Release
Duration
Style
Accompaniment
Movement
Formation
Choir
1966
Rhythm of Life
1969
00:03:30
Upbeat
Piano
Yes
TSBA
ALL
1965
Feelin' Good
1965
00:02:30
Upbeat
A Cappella
Yes
STBA
ALL
EMMA: In the 1970s 'the love that dare not speak its name' became the love that wouldn't shut up! 1970 saw the first Gay Pride March take place- an annual event that is now celebrated all over the world. The 80s saw some early victories- decriminalisation finally extended to Scotland and Northern Ireland and Britain had its first out gay MP. But the shadow cast over the 80s by HIV and AIDS was something that would change the LGBT community forever. However, our community campaigned for increased funding into research and education and for protection against discrimination. A personal and social tragedy of immense proportions, HIV and AIDS paradoxically strengthened the political arm of the gay movement. Our song for this era, while written during the 1970s was also a hit in the 90's, feel free to sing along if you know either version.

| | | | | | | | | |
| --- | --- | --- | --- | --- | --- | --- | --- | --- |
| Written | Name | Release | Duration | Style | Accompaniment | Movement | Formation | Choir |
| 1976 | Could It Be Magic | 1992 | 00:04:00 | Upbeat | Piano | Yes | STBA | ALL |

MATTHEW: We're now up to the 1990s which the lobbying group Stonewall, established in 1989, leading campaigns for not only the repeal of Section 28 but greater equality for Gay, Lesbian, Bisexual and Transgender people in all aspects of the law. The age of consent was lowered to 18 which was an improvement but still not equality. Internationally, I was delighted that after over 30 years of suffering from the mental health illness which the World Health Organisation called homosexuality, in 1990 I was cured; they declared that it was not an illness after all. This decade gave some confidence and voice back to people. The 90s were also a time of musical change and we've chosen some lyrically beautiful ballads to celebrate the 1990s, many of which have become almost timeless.

| | | | | | | | | |
| --- | --- | --- | --- | --- | --- | --- | --- | --- |
| Written | Name | Release | Duration | Style | Accompaniment | Movement | Formation | Choir |
| 1997 | Make You Feel My Love | 1997 | 00:03:50 | Mellow | Piano | Yes | SATB | ALL |
| 1992 | Long Day Closes | 1992 | | Mellow | A Cappella | No | SATB | ALL |
| 1997 | Angel | 1999 | 00:05:30 | Mellow | A Cappella | No | STBA | SMALL ENSEMBLE |

PETE: Somebody once said 'history never feels like history when you're living through it' but the first decade of the 21st century saw some truly historic landmarks reached for the British LGBT community. The long-fought campaign for an equal age of consent was finally won and the ban on lesbians and gay men serving in the armed forces was lifted. Equal adoption rights for same-sex couples and the introduction of Civil Partnerships are a few examples of how our families and relationships now receive greater legal recognition. Our community now has the loudest voice it has ever had but there are many who are still to find it. Homophobic crimes and prejudice in the UK is still a reality and in other parts of the world LGBT communities and campaigners face fundamental challenges. In six countries, homosexuality is still punishable by life imprisonment; in ten others, it still carries the death penalty. Tonight our voices are their voices too. This will be our last song.

| | | | | | | | | |
| --- | --- | --- | --- | --- | --- | --- | --- | --- |
| Written | Name | Release | Duration | Style | Accompaniment | Movement | Formation | Choir |
| 2007 | Shine | 2007 | 00:04:20 | Upbeat | A Cappella | Yes | S-A-T-B | ALL |

CERI & KARL: Thanks - ENCORE - We Are Family






18 months after this performance, former choir member Mike Burgess, who was then volunteering at Bristol's LGBT+ Forum sent us this message:

"Hi Sing Out,

I received a touching reminder of what singing with Sing Out Bristol is all about this morning. As part of my role within the LGBT forum I receive many letters and emails from people seeking help and advice concerning their journey of coming to terms with their sexuality. Today I got a letter from a man currently in Leyhill prison, inside the system for 6 years – who came out within the system – and has campaigned from the inside for acceptance and support. He has set up successful support groups in every establishment he has stayed in – and is particularly proud that he (Inside Out) was involved in getting 'Sing Out Bristol' to Shepton Mallet – which he described as 'a fantastic concert'!! As a member of that troupe of singers that braved that night – confirmation that it meant so much to him (and others there too) made me feel all weepy inside. I'd really like you to pass this on to all who were involved."


As a consequence of this contact, we went on to perform at Leyhill Prison for their Pride event in 2017 and ahead of that performance, we again received a message from another inmate who was Shepton Mallet at the time and later transferred to Leyhill:

"Thank you for agreeing to perform for us on May 29th – Leyhill Pride Day.

I was one of the organisers of your concert at HMP Shepton Mallet and I have been trying to get you to Leyhill ever since!

Leyhill Pride is a day of LGBT celebration held at the end of LGBT Awareness Month at Leyhill prison. The whole month is intended to increase awareness of LGBT issues facing prisoners and the wider community, and to promote a culture of tolerance and respect in prison.

This is our second year of staging this high profile and unusual (in a prison setting anyway) event. Last year was very successful but this year we plan to be bigger, better, bolder, brighter and gayer!

Our goal is to build a lasting, though rolling LGBT community within Leyhill, to strengthen ties with the wider community and to grow into a prison where all LGBT people feel comfort