Description: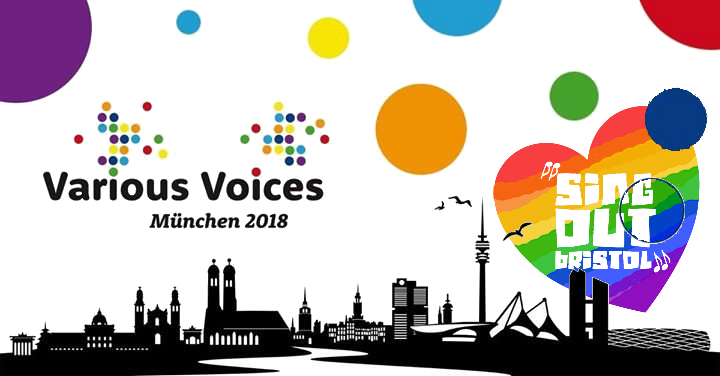 The first of two performances at Various Voices 2018, in Munich, Germany.

This performance took place in the prestigious Philharmonie, the largest of the four concert halls at the impressive Gasteig, which served as the hub for the 5 days of the festival.




These comments are from choir members who attended and refer to the whole five day long festival, when asked for their personal highlights of the week.

Jess Horder (Soprano):
My highlights: no different to many others; performing at Philamonie was special, but I think topped by Odeonsplatz,and the genuine warmth which surrounded us whilst we sang and danced, I have goosebumps thinking about it! I loved listening to Carmina Burana, the atmosphere it created, and loved seeing so many people enjoying it, LGBTI, straight, and whatever, sharing a special time together in harmony. Oh and that the sun shone so brightly for us that day!!! Munich rocked!

LiSah Stuart (Soprano):
Highlights..performing at the phenominal Philharmonie......on stage at Odeonsplatz playing to a great crowd in the sun, real fun....the buzz in the air after the Carmina, Wow....and partying with my super Singout family...???? ???????? X

Georgia Spooner (Alto):
My highlights : front row cherry pop, dancing to samba band, chats with people I don't chat to much, lots and lots of laughter, being part of a big bubble xxx

Michael Reynolds (Tenor):
Highlights.. many, but singing on stage in philharmonic was amazing. But the crowd at the outdoor venue. Most of all the best thing was being with the amazing Sing Out Bristol xx

Jude English (Alto): .
singing in the Gasteig, what an amazing venue. The Atlanta choir and Edinburgh Out and Loud . Percusion number One and the premiere piece at the finale.

Rhi O'Gorman (Alto):
Dancing our socks off to Samba, hair wars with Jo, bear hugs with the boys, audience participation on Saturday.

Lucy Pederson (Alto):
My highlight was hanging out with these guys and singing Carmena Burana with thousands of others

Nick Gill (Bass):
Highlight 1: Reconnecting with old friend not seen for 40 years when neither of us were out and who doesn't do social media and is now part of Brighton Rainbow Chorus.
Highlight 2: Warm-up to Carmena Burana in Odeonsplatz when straight couple wandered into Bass 2 area and got caught up in group massages and waltzes. Husband seemed to enter into the spirit!





No official videos were made during the trip, however, below is a 'tongue-in-cheek' look at the week's highlights.



Click here to view photos