Description:
Another visit to Swindon to perform at their Pride event. This time, we hired a coach and left Bristol coach park at midday heading to Swindon on a sunny August day. We performed twice, once to open the event (to a very small crowd) on the main stage, and then again at 3.50pm in the Variety Stage tent.

Although the main stage event went off without a hitch, we weren't so lucky in the Variety tent, with power to the main amp lost after our first song. Undaunted, we reverted to accapella numbers and improvised, like the troupers we are, including 'Bella Mama', a song normally reserved for warm-ups, but one that got the audience singing along. The show must go on after all.

This was quite a test for our deputy MD, Leila, standing in for Rónán for the day, but she coped admirably (helped, in no small part by the odd glass of wine).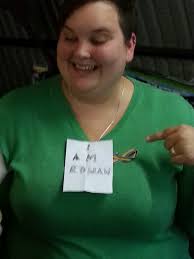 Deputy MD, Leila



River Deep Mountain High
All That Jazz
Shine
Could It Be Magic
Sway
Sho Sholoza
Bella Mama