Description: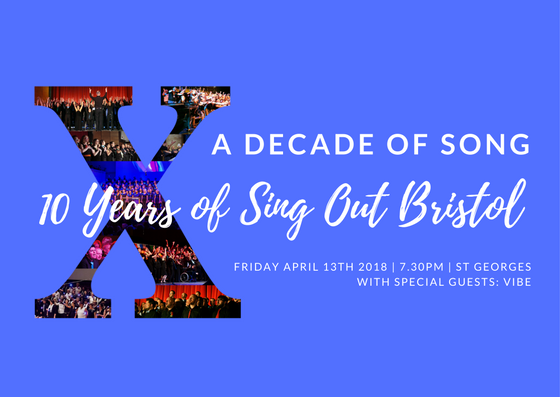 VISIT OUR ONLINE SHOP TO PURCHASE THE OFFICIAL PROFESSIONALLY PRODUCED VIDEO OF THE PERFORMANCE, ON DVD OR HD DOWNLOAD

The first of two shows to celebrate our 10th Anniversary (with guest choir, 'Vibe' from Portishead (MD Wendy Sergeant).



From Iain Elkington (Tenor) on Facebook:
"I'm still on a high from the concert, a fantastic couple of nights! My dad said that the concert was such fun, and he and the rest of my guests enjoyed it so much.
Thank you, SOB, for another fabulous concert!"

From Tomek Pawlicki (Tenor) on Facebook:
"All I felt that weekend was love, support, warmth and happiness.
Everyone in Sing Out Bristol
U don't know what u do to people and how much u give


After this concert I felt so close to all of u and felt like I belong here."

From Leanne Curtis (Alto) on Facebook:
"Thank you all for making my first concert experience an amazing one!! One I will never forget. I felt like I've been part of your choir for years and from day one you've all made me feel so welcome and have quickly become an invaluable part of my life. My choir family. I honestly couldn't imagine life without it/you all now. You rock!!!! Well done all!! We did it!! Here's to Munich and Pride!! Xx"

From Suzanne Doyle (Soprano) on Facebook:
Is anyone else too buzzing to sleep! What a fab night. Thank you all for a great concert and for being my friends and gay sing out family. So excited we get to do it again tomorrow
:-) xxxxx

From Darren Flaxstone (Tenor) on Facebook:
"Was chatting to our fab Icon Films camera crew at work today and they were hugely impressed by our weekend performances. Jahlani, our main camera guy was moved to tears by Viva La Vida. He thinks its better than the original !!
:-)"




"Five stars ! I loved the controlled singing, the choice of songs,the Gailic one [Dúlamán] at the end of the first half made the hairs on the back of my neck stand up .I thought the visiting choir Vibe,was also outstanding and joyous. Loved the little Downs Syndrome girl . So good to see inclusion not rejection. The signer was mesmeric! . Three conductors,all so inspirational. A wonderful evening ,thank you!"

"Brilliant!"

"The show was fantastic - upbeat and inspirational."

"Fantastic show, really enjoyed the evening."

"Joyous, life-affirming and celebratory, this was a polished performance: in turn, slick, sassy and soulful, with a range of music to suit all tastes, from contemporary classical, to Broadway, to pop. A night of sheer fun for everyone."

"Wonderful event."

"Thrilling and entertaining!"

"Fun, fun, fun!"

"Absolutely amazing harmonies. Positive vibes and simple but brilliant choreography. I loved it!"

"This was the best thing I have ever seen - the choir sang so beautifully and enthralled the audience with their musical diversity"

"Fabulous. Truly amazing!"




Click on each track to stream/download the audio recording of the performance:
ACT ONE
Adiemus
Skyfall
Viva La Vida
Let The River Run
Africa
Here Comes The Sun (SSAA)
Come What May (LSO)
River Deep Mountain High
Bread and Roses
Cantique de Jean Racine
Dúlamán
ACT TWO
Fix You
Angel
Scarborough Fair/Sound of Silence
The Long Day Closes
Gold (LSO)
The Long and Winding Road
Abba Medley (Jetse Bremer)
One (Singular Sensation)
ENCORE
Disco Fever (New)
We Are Family




SLIDESHOW: THE MAKING OF 'X - 10 YEARS OF SING OUT BRISTOL'

DVD TRAILER

TIMELINE SLIDESHOW PART ONE

TIMELINE SLIDESHOW PART TWO




FACEBOOK PHOTOS SLIDESHOW


OFFICIAL PHOTOGRAPHER:
CLICK HERE TO SEE OFFICIAL PHOTOS